Earlier this year, Seven Bailey and Andrae Alexander of Omnes Records approached my magazine, Vanichi, with an idea that combined music, fashion, philanthropy and technology under one roof. The evening would be called 4 The Love Sessions (#4tlsessions) and in May, we brought the event to life at the Gibson Showroom Beverly Hills.
Throughout the night, Gibson welcomed over 300 like-minded individuals who gathered to enjoy live musical performances curated by Andrae Alexander and a live fashion editorial produced by Vanichi Magazine. There was also a photo installation by Ian Bailey that presented portraits from India of villagers who are living in modern-day slavery and a VR experience that catapulted the viewer to India to see the work of Voices 4 Freedom, an organization freeing one village at a time from indentured servitude. During 4 The Love Sessions, awareness was raised for the arts and creativity while attention was also given to people who are fighting for their actual freedom.
"4 The Love Sessions was born out of necessity," Seven Bailey shares. "As a professional musician, I have always wanted to be in a nurturing environment that housed various forms of art. 'Love Conquers All', is my philosophy. It unites us all no matter what creed or sexual preference."
"It's the actual ways that the arts can evoke emotion unlike any other that makes 4 The Love Sessions needed. This is for those like-minded thinkers who love what they do and want to share it with the world in a positive environment."
Seven already had a strong relationship with Gibson, so their Beverly Hills showroom was a natural choice. "They are truly a one stop shop that meets all our needs. Understanding the vision of 4 The Love Sessions, they welcomed us with open arms. We were then able to bring in an audience that is not only on the same wavelength with us, but also vibes with Gibson. It was a perfect marriage."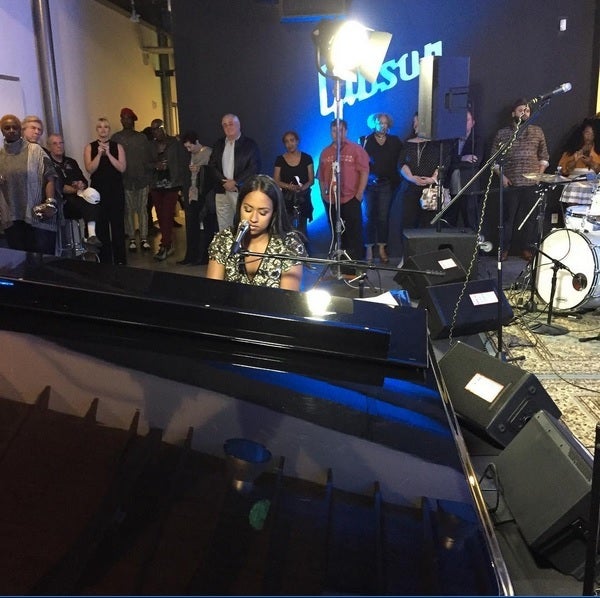 INSTAGRAM
Jensen McRae performing during 4 The Love Sessions.
The musical performances for the evening included Los Angeles-based talents Jensen McRae, Sha'leah Nikole, Wil Key, Lydia René, Maritri, Ethan Castro and Andrae Alexander himself. Additionally, DJ Swann joined Ethan Castro in the Vanichi Magazine installation to create a lounge feel for the live fashion editorial.
In curating the 4 The Love Sessions' musical talent, Andrae Alexander sought talent that also got involved in their communities. "I wanted artists that were dynamic in their performance, were current and thought provoking with their lyrical content, and could play an instrument," explains Andrae.
"I also checked each artist's social media and website content to see in what ways they gave back to their community. It was inspiring to see them do things like give of their time and talents to support youth organizations and/or feed the homeless. Knowing that we at Omnes are about promoting love for our community and showing love to all of humanity, I look for artists that know the power of music and wield that power masterfully."
Full Article <<>>http://bit.ly/2sX3jh4